over the world to discuss and exchange information and ideas on the latest technologies and processes. For the first time in Indian Printing History, an international event of such a scale was organised where there was a huge delegation from Japan, Australia and even as far away as Rio De Janeiro. Shri V.N. Chhabra, Shri K. L. Shroff, Shri S.N. Mehta, Shri V.K.Makhija, Shri V. K. Malik, Shri Satish Malhotra, Shri S.N. Tara and other members of DPA burnt the midnight oil for weeks organising the minutest details for its smooth functioning.
The WPC was inaugurated by the then Vice - President of India Shri K.R. Narayanan and the keynote address delivered by Dr. Karan Singh.The theme "Print Communication - A Global Vision" was aptly illustrated and to coincide with this event, was held an Exhibition of Print Material showcasing entries from all over the world.
South Asia Print Congress 1996
South Asia Print Congress with the theme "Print Vision 2001 - Challenges and Changes" was held at The Oberoi, New Delhi from January 13 to 15. The objective of learning and benefiting through regional cooperation was fulfilled by representatives of printing associations from various South Asian countries, including Bangladesh, Sri Lanka and Nepal who while apprising delegates of their experiences of the impact of new technologies and ideas, also demonstrated how to bridge the gap between old and new.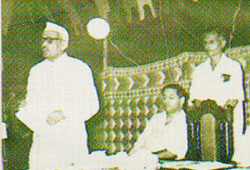 "It is predicted that by 2010, over half of the world's total productivity will originate from Asian Countries. It is therefore vital that printers in South Asia prepare themselves to face the Challenges", thus spoke Shri V. N. Chhabra, the Chairperson of South Asia Print Congress. He along with Shri V. K. Malik, the Organising Secretary and other colleagues planned the technical seminars, exhibition and Awards ceremony. To promote SAPC in the neighbouring SAARC countries DPA members went personally to Bangladesh, Sri Lanka and Nepal. An exhibition on Excellence in Printing' was the high point of the event. DPA has never shied away from playing an active role even in the day-to-day affairs of the AIFMP. Being the largest affiliate of this apex body DPA has shouldered responsibility of holding at least one Governing Council meeting per year. Many of its eminent members have been Presidents of AIFMP and the meetings organised by DPA during their tenures bear special significance. The earliest conference on record is of the 4th session held on 20th December 1959, where nine important resolutions on various matters
relating to the industry were passed and adopted . These issues were stunting the development of the printing trade. Removal of presses from their present locations was a hotly debated issue even then. Exemption from peak-load restrictions, import of printing machinery and meeting the paper crisis were some of the other resolutions adopted. To create awareness among printers of Delhi and popularise the Association, local conferences were organised every year. To start with printer leaders of All India fame like Shri Ramu, Shri Ardeshir, Shri G.U. Mehta of Bombay, Shri Venkateswaran of Madras, Shri Hangal of Pune and Shri B.C. Ray (Saraswati Press) of Calcutta were invited to preside over these conferences and local dignitaries like Dr. Yudhvir Singh and Shri Gopi Nath Aman, the then Executive Councillors to inaugurate them.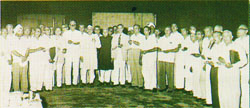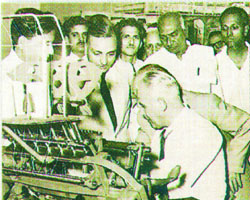 The 29th All India Printers' Conference, held in March 2001, was a roaring success and testimony to the organisational capability of DPA. This was a landmark conference for many reasons. It was for the first time that the conference was supported by Indian Newspaper Society and Indian Printing, Packaging and Allied Machinery Manufacturers Association. The conference, inaugurated by the former Prime Minister, Shri I. K. Gujral, attracted 419 delegates from India and abroad and covered the latest print technology addressed by speakers from all parts of the world.
DPA Activities
The DPA holds monthly meetings of its executive body where all policy matters are discussed and mutually acceptable solutions arrived at. Another feather in the cap of the association was the organising of a Competition for Excellence in Printing in 1993, where a panel of eminent judges selected entries from small, medium and large printers for first, second and third prizes in various categories.
The Excellence in Printing Awards Function was held at Kanishka Hotel on Nov. 20, 1993 where the former President of India, Giani Zail Singh, gave away the prizes.
Service to Its Members
In the late 70 Shri S.S. Batra with the help of former presidents was able to buy a plot of 500 sq. yds in Naraina Phase-II. The spacious Printers Bhawan of DPA came into being there with the funds generated from printers, print suppliers and profits of the Pamex-83. This was primarily used as a Training Centre and Technical Library from 1988 onwards. More than 1400 students were trained in DTP, laser printing, scanning, screen printing etc.
In order to make use of the huge building which lay vacant, DPA managed to accomplish the gigantic task of turning the building into freehold property. After spending about Rs. 20 lakh on freeholding and subsequent renovation, a portion on ground floor has been leased out to the Janata Co-operative Bank. In 1981 DPA floated a Co-operative Group Housing Society and DDA allotted 7.29 acres of land to it at Rohini in 1993. More than 400 families are now living in this Printers' Society.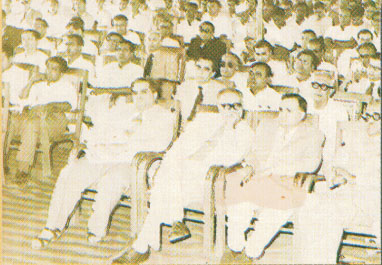 To safeguard the interest of its members and their workforce has been the foremost goal of DPA. Time and again DPA has led demonstrations and sent its delegations to protest any hardships imposed on the printers. In 1982, Shri S. N. Mehta led a Protest March against unjustified and exorbitant paper price hikes by the paper mills. Most recently on May 11, 2007 DPA, in association with AIFMP, held a Press Conference at Chelmsford Club to highlight the plight of printers and publishers as a result of the unprecedented and frequent steep hikes in the prices of various varieties of paper The complex issue of Relocation of Industries from non-confirming residential areas to conforming industrial areas has affected hundreds of printers. The association has been assisting affected members by fighting at various levels including in Delhi High Court. Special mention must be made here of the efforts of Shri Vijay Mohan in pursuing the problems of displaced printers. Similarly, printers of industrial areas had a harrowing time when DPCC had changed the category of printers from Green to Orange and when their water and electicity connections were cut. DPA had to run from pillar to post to get the matter sorted out and water and electricity connections were restored.
Mr. Arun Berry has been handling this tedious issue by helping the printers. When the Sales Tax on Works Contract was first introduced by the Delhi Government, there was confusion all around as to its application and implication. DPA consulted various tax lawyers and held a seminar to clear the cobwebs from everybody's minds. It helped in better understanding of the enforcement of the new tax. When VAT was introduced in 2005 the rate for printers was 12.5% but with the forceful efforts made by DPA the VAT was reduced to 4% only. To resolve problems faced by members about ESIC, DPA has organized interaction meetings with officials of ESIC and ILO.
The Mother of all fellowship events is undoubtedly the "Holi Milan" organised by DPA year after year. Supported by print suppliers and sponsored by leading paper manufacturers this annual event is looked forward to by all printers and their families. In the true spirit of bonhomie and camaraderie, Holi is played symbolically with a tilak followed by multi-faceted cultural programme. Everybody participates whole-heartedly enjoying the music and dance. There are a number of lucky dip prizes and to cap the evening a sumptuous dinner. To continue the spread of sociability and common touch amongst printers and their families DPA has organised Picnics at water parks.
Publications
What DPA does and achieves would not be known but for its mouth-piece DELHI PRINTER. Starting as a mere News Bulletin, almost from the time of formation of DPA, it has done yeoman's service in putting forth the problems and views of printers to the concerned government departments.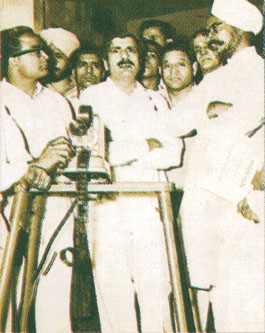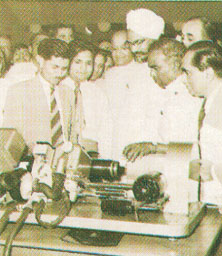 One cannot talk about Delhi Printer without reference to Delhi Press where it was being edited and printed by Shri Naresh Nath from its inception to 2003. Its growth from a news-bulletin to an excellently produced journal is proof of the painstaking efforts of Shri V.K. Malik as its Editor and Printer. From May 2009 DPA launched the publication of Masik Samachar Patrika - a monthly newsletter in Hindi - to provide the members with the latest news of the Printing Industry and about the important activities of the association. The newsletter has proved highly popular.
Periodically, the association brings out a detailed Directory of Members. It gives useful data and helps buyers and suppliers to contact the printing presses apart from facilitating interaction among fellow printers. With the ever changing phone numbers, it is a most useful and handy publication. For the first time the 11th edition in 2012 carries photographs of members.
Website In keeping with curent trends, DPA also launched its website on the day of its Golden Jubilee Celebrations. Soon the members will have the facility of accessing Delhi Printer's latest issues on the net and the E-savvy can get the updated information of the activities of DPA at the click of a button at www.delhiprinter.org.
Other Activities
The year 2003 is marked by a new direction to the activities of DPA. 24th February the birthday of Johannes Gutenberg, the Father of the Art of Printing, has been declared Printers' Day.
For a long time, the need was felt to undertake some humanitarian and philanthropic work. This was the opportune moment for DPA to fulfil its moral obligations to society, for the haves to share their surplus with have-nots. On this day, DPA organises free health check-up camps, blood donation camps and langars for the workers and their families. Educational tours to big printing units are organised for the students.
The association completed 50 years of eventful service to printers of Delhi as well as the Printing Industry of India and proudly celebrated its Golden Jubilee at India Habitat Centre on April 9, 2004. During the day a Technical Seminar on latest Printing Technology was held where eminent speakers from India and abroad addressed over 200 delegates. The evening had a gala awards night where Chief Guest Shri Vijay Kumar Chopra and Guest of Honour Shri Naseeb Singh, gave away over 70 awards to proud winners of Delhi and north India. Many industry stalwarts were also felicitated with trophies. A special Golden Jubilee issue of Delhi Printer was released to commemorate 50 years of DPA. The function ended with an enjoyable cultural show and dinner.
On 17th March 2007 Delhi Printers' Association, supported by associations of North India, organised a Technical Seminar on Digital Printing Demand which was a huge success. Speakers from Xerox India, EFI India and Amity University dealt with all aspects of Digital Printing.
On the same evening a gala Awards Function was held to present awards to winners of association's 2nd North India Awards for Excellence in Printing. Out of 750 entries received from printers of North India 97 first, second and merit awards were given at a glittering function spiced with cultural show. For the benefit of printers and other entrepreneurs the Ministry of MSME and DPA had organised several short-term courses on Export Management, Cost Management, ISO-9000 and Upgradation of Print Technology. Over 500 students completed the courses. The association regularly intimates the members about the various beneficial schemes introduced by the Ministry of MSME from time to time through its bimonthly Delhi Printer and Masik Samachar Patrika.
To keep the patriotic spirit alive by remembering the daring sacrifices made by freedom fighters, DPA has been organising Rashtriya Utsav in August to celebrate the Anniversary of India's Independence. The function comprises a highly entertaining song, dance and drama presentation highlighting nationalistic fervour.
On the basis of 90% contribution by Ministry of MSME and 10% by DPA, the Ministry has recently approved setting up of a Printing and Packaging Cluster under the Micro and Small Enterprises - Cluster Development Programme (MSE-CDP). It is hoped that a Print Technology Training and Research Centre will be launched at Printers Bhawan soon.
Many financial and IT institutions of repute have used DPA's platform for publicising their products to printer members. SIDBI, Citi Bank, HSBC, Intec Capital, Reliance Capital, Electronica Finance Ltd., Techmart Systems, Business Essentials and ACC Global P. Ltd. have made their power point presentations from time to time.
Interprint Expo-2012
After Pamex-83, a gap of three decades, in collaboration with Offset Printers' Association of Ludhiana, DPA is organised Interprint Expo-2012 at Pragati Maidan on September 14-15, 2012. Spanning 4,000 sq. mts the exhibition attracted 135 exhibitors from various segments of the industry, including Used Printing Machinery Forum and Screen Tex, making it a multi-dimensional show. Other than the state-of-the-art products, the star feature of the expo was a Presentation on Benny Landa's nano print technology which most of the 15,000 visitors saw on all three days. Another special attraction was the Awards Gallery where award-winning entries of 7th National Awards for Excellence in Printing were displayed. The exhibitors went back happy not only because of the heavy footfall, but they achieved more than their expected business. The Chief Minister of Delhi. Mrs. Sheila Dikshit had inaugurated the expo and released the Exhibitors Directory.The activities of 50 years cannot be clubbed into a few pages. The sweat and toil of pioneer printers and the growth of DPA is itself a mammoth feat. As you go through old issues of Delhi Printer and talk to the stalwarts, history seems to unfold itself. Every occasion, every event had its moments and anecdotes - the struggle and the triumph of the spirit. It is a fraction of that indefatigable spirit of DPA which we have tried to capture in these pages and acquaint you with the growth of an organisation from scratch to its present stature. The prosperity and technological excellence of the individual printer is amply reflected in the collective body.As the association has celebrated its Golden Jubilee, it is time to reflect on the achievements and pitfalls as also to set new goals. Unlike its leaders, the association is timeless and the show goes on.